Ottiwell Family Meeting (AFA)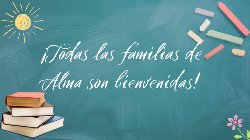 What

Ottiwell Family Meeting (AFA)

When

9/12/2023, 5:30 PM

–

6:30 PM

Where

Ottiwell Campus, 515 Belleville Avenue, New Bedford, MA 02746
AY23-24 Theme for AFA:
Psychological Safety for All Scholars, Staff, administrators and families have all seen the psychological impact of the pandemic on scholars at Alma. There is an increased need for mental health support and social emotional support. Learning cannot happen without psychological safety. This year during AFA meetings, Alma and families will partner together to examine the current structures the school uses to support scholars, engage in learning about ways to support scholars outside of school, and share best practices with our wider community.
What topics will we discuss this year?
-What is Bullying?
-Alma's Bullying Prevention Plan
-Reporting and Investigation Procedures
-Support for Victims and Perpetrators of Bullying
-Social Emotional Curriculum
-Online safety
-Supportive measures families can take to prevent bullying

Alma's Family Advisory strives to facilitate and encourage parents' active and productive communication with the school, strengthen bonds between the school and the wider community, and inspire volunteerism of families in service of the school. All families of scholars who attend Alma are welcome to attend and should feel confident and comfortable sharing their views. Spanish translation will be provided.
Copy to Google Calendar
•
Download iCal Event